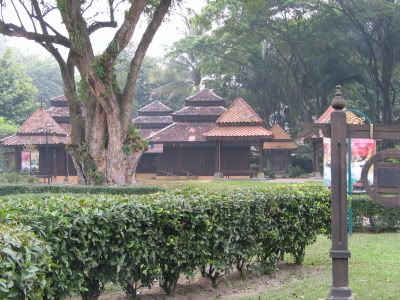 Kuala Lumpur on the weekend can be stifling. Streets are filled with cars, people flocking the shopping complexes like there are no other places to go. If not because of Zain's wedding reception, I would not have stepped out from the house. But, I promised Mona to go with her and Nab. She also promised to drive, so it would not be so bad.

Anyway the reception is held at a community hall in Taman Melati, just about 15 minutes away drive from my house and I have no other excuses not to go because Zain himself called to invite me for the reception and he was my colleague during my brief stint in JB. And I really want to see him and his bride.

Mona came in his dad's Vios and we shot to Taman Melati. Of course a bit of sesat here and there. Two servings of delicious nasi beriyani with beef curry, chilli chicken, achar and washed down with Siren (sirap oren) and polished off with kuih bunga kemboja and slices of watermelon. Yummy. Spent time chit-chatting with the newly wed and friends who came down from JB to attend the reception and off we go to Projet for both Mona and Nab to change into the second persalinan. Its merambu time!

Since there was no proper plan, we spent time driving aimlessly along the MRR2. It was either Alpha Angle for the Melayu-type shopping complex or visiting a friend who was suffering from Cancer in HUKM. In the end we turned to Jalan Ampang to KLCC. It was a big mistake! The road in front of the famous landmark in KL was jammed packed. All the parking areas were full. All the lepak places were filled with "international tourists". We were speechless and Mona had no other choice but to drive around to Jalan Pinang with hope to find at least half empty parking lot near the Mandarin Oriental. Unfortunately it was a futile attempt. I repeat, all the parking lots are full! And it was all because of PC Fair at the KLConvention Centre.



In the end, we decided to look at local handicraft in Karyaneka at Jalan Conlay. It was my first time there and the place was almost deserted except for a few tourists who browsed looking at simple and authentic yet expensive handicraft. There was no hassle to find empty parking bays because all the bays outside the building were empty. In fact, it was easily to just drive inside the compound and park the car there.


After browsing all those impractical knick knacks we went to the artists village behind the main building. There were a group of professional musicians playing keronchong songs at the main wakaf surrounded by small wooden artists shops.

The music was soothing eccentuated the calmness of the surrounding with old big trees shading the area. Walking along the footpath in the artist village makes one forget that you are in the middle of the city surrounded by sky scrapers. It just so detached from the hustle and bustle of KLCC area!